Author: Mike Els 
Implementing an Enterprise Asset Management (EAM) system is a significant endeavour for any organisation. It demands meticulous planning and execution, with training playing a pivotal role in ensuring a successful implementation. Consider the following eight key considerations and strategies for effective training throughout the EAM implementation journey. By being cognisant of and addressing these factors, organisations can empower their workforce and maximise the advantages of their EAM system. Based on our experience with numerous successful EAM system implementations, there are eight essential criteria for shaping a comprehensive training programme and training capabilities for EAM implementations.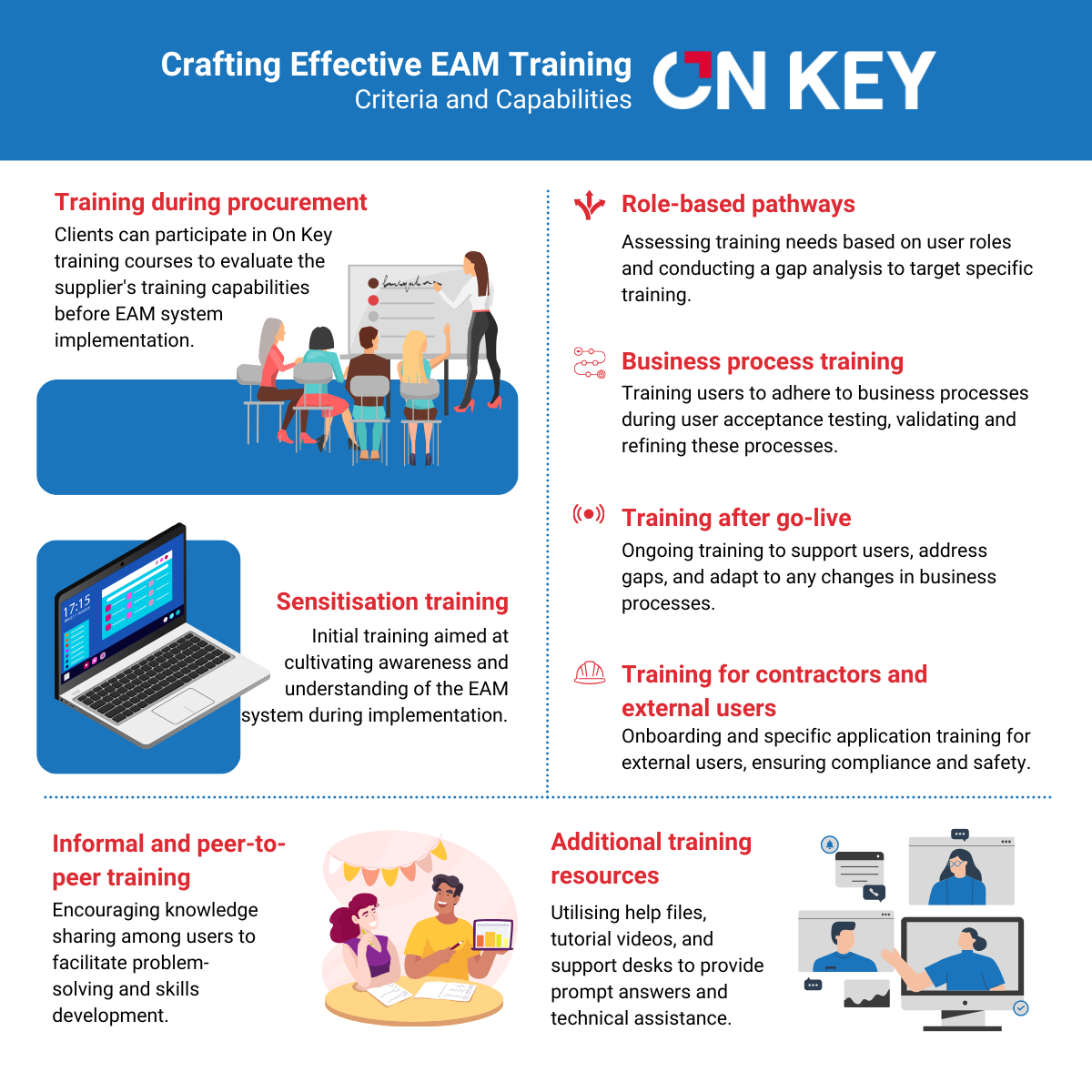 Training During Procurement: Clients can participate in On Key training courses to evaluate the supplier's training capabilities before EAM system implementation.

 

Sensitisation Training: Initial training aimed at cultivating awareness and understanding of the EAM system during implementation.

 

Role-based Pathways: Assessing training needs based on user roles and conducting a gap analysis to target specific training.

 

Business Process Training: Training users to adhere to business processes during user acceptance testing, validating and refining these processes.

 

Training After Go-live: Ongoing training to support users, address gaps, and adapt to any changes in business processes.

 

Training for Contractors and External Users: Onboarding and specific application training for external users, ensuring compliance and safety.

 

Informal and Peer-to-Peer Training: Encouraging knowledge sharing among users to facilitate problem-solving and skills development.

 

Additional Training Resources: Utilising help files, tutorial videos, and support desks to provide prompt answers and technical assistance.

 
Practical results-driven training is pivotal for the triumphant implementation of an EAM system. Organisations can reduce resistance, enhance data quality, optimise business processes, and elevate user proficiency by delivering a synergistic training approach at different implementation stages. A combination of formal and informal training methods, coupled with accessible resources, will cultivate a supportive learning environment for users.