Maintaining 250 conveyor sections per distribution centre posed several challenges around the planning and control of work, the location of these assets and actioning follow-up work.  The Field Engineering app was the solution.
Client Background
The client is a major clothing retailer in Southern Africa. Over the last 54 years, the brand became a firm part of South Africa's history and culture. With more than 2 200 stores, they are the biggest single-brand retailer in Africa.  The client has multiple distribution centers across South Africa, with a large amount of conveyors moving boxes from receiving to dispatch areas.
Key Challenges
Maintaining about 250 conveyor sections per distribution centre created the following challenges:
Cumbersome initiation of work planning and control process
Manually printing of weekly preventive inspection work orders (approximately 500 pages per week)
Experiencing difficulties locating correct work orders and assets
Capturing all work order feedback manually
Long process to action follow-up work.
" Digitisation of processes is one of the key focus areas for Pragma and our client. This inspection application has greatly assisted in efficiency and moving to a paperless environment"
– Tertius Janse van Rensburg | Business Area Manager
Pragma Intervention
An asset verification and barcoding project was conducted to ensure the accuracy of the asset register
OEM recommend maintenance plans were uploaded into On Key by asset type (type of conveyor section)
A RAD (Rapid Application Design) app was developed to digitise the process of performing preventive maintenance inspections on conveyors
Work order profiles were created in On Key to simplify tracking and actioning of both inspection and follow-up work orders
Inspection reports were developed to enable Facilities Managers to view completeness of inspections
On Key Insights model (QlikSense Report) used to track schedule attainment of inspection tasks
Value Add
Reduction in paper use
Increase in data velocity
Streamlined process flow
Digitisation of workforce
Structured maintenance plans
Transparency in work planning and control process
Dynamic reporting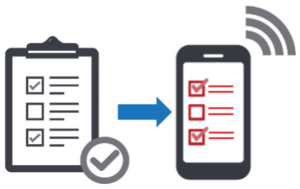 Tools and Technology
Pragma On Key Enterprise Asset Management system
Field Engineering App
On Key Insights (QlikSense powered by Qlik)